A GROWING STATE NEEDS BIG NEW INFRASTRUCTURE TO STAY AHEAD OF FUTURE GROWTH
A growing state needs big new infrastructure to stay ahead of future growth. But the risk of "politics as usual" and poor economic management could put complex and costly mega-projects back in the too-hard basket.
That's not the case in NSW under our government. We have transformed the state with an infrastructure boom unlike any in our history, and we have the experience and the long-term plan to keep building.
In January this year we opened Australia's longest underground motorway, eliminating 52 sets of traffic lights and saving motorists up to 40 minutes on a single journey.
It's just the latest in a steady pipeline of metros, motorways, hospitals, light rails and other major projects we have delivered to prepare NSW for the future, and turbocharge our economy.
But there is more to do, and only our team have the experience and plan to keep the economy strong and keep building for the future.
Schools and Hospitals to Stay Ahead of Future Growth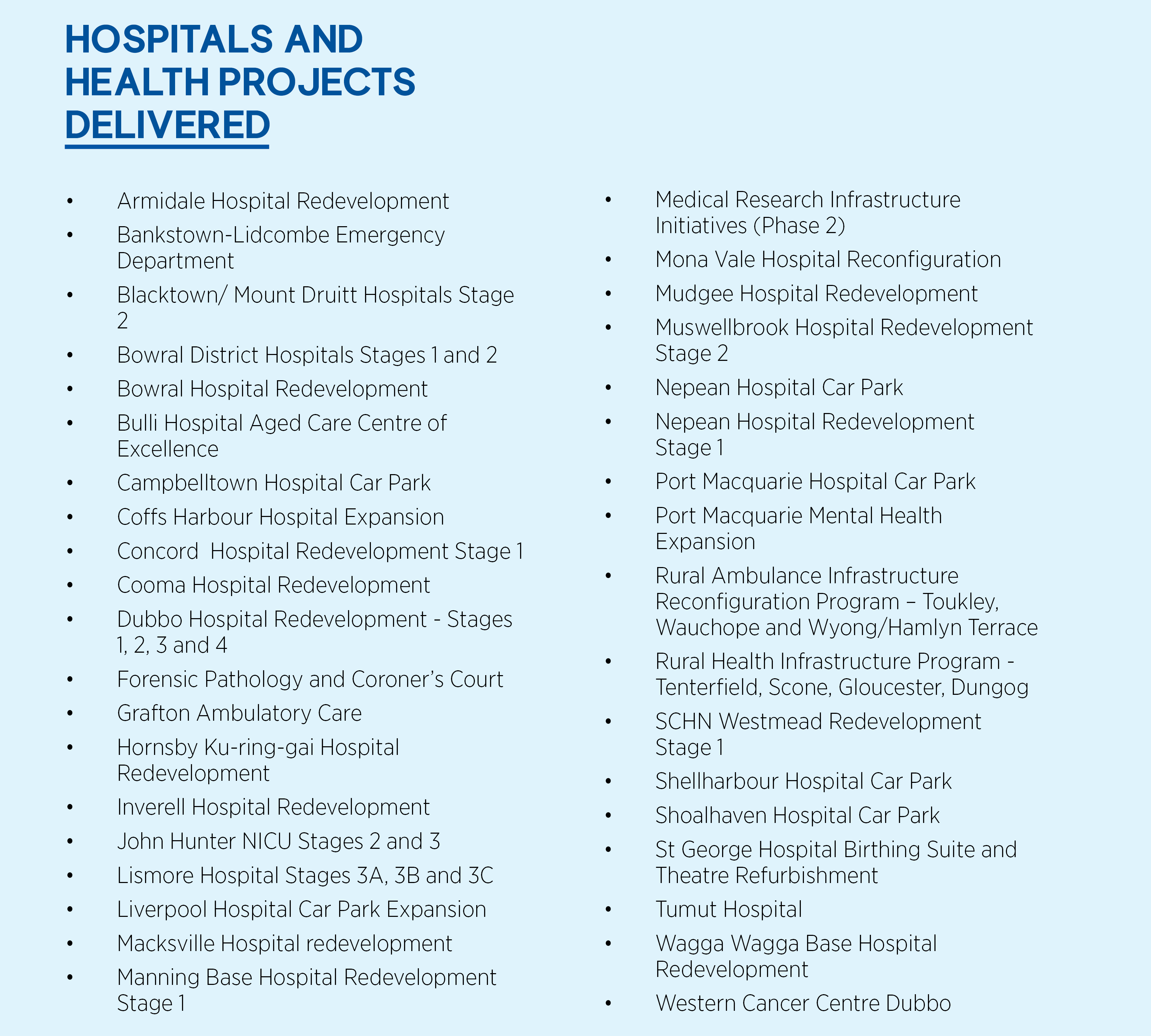 As NSW grows, so too will our need to provide the infrastructure to support people. We are building a record amount of schools, hospital and health infrastructure right across NSW.
A new Airport to Take NSW Forward
Construction of the Western Sydney International (Nancy-Bird Walton) Airport is underway and on track to begin operations in 2026. The Airport is a transformational project that will generate economic activity, provide employment opportunities closer to home for people in Western Sydney and meet Sydney's growing aviation needs.
Benefiting from proximity to the new Airport, the Western Sydney Aerotropolis will contribute towards 200,000 new jobs in the broader Western Parkland City and become a high-skill jobs hub across aerospace and defence, manufacturing, healthcare, freight and logistics, agribusiness, education and research industries.
Building the Metro
Sydney's new world-scale metro system is the biggest program of public transport infrastructure currently under construction in Australia and the largest urban rail infrastructure investment in the nation's history.
In the next five years we will open the City and South West Metro and we will continue building the Airport metro, creating linkages to the new airport city at Western Sydney Aerotropolis.
More Light Rail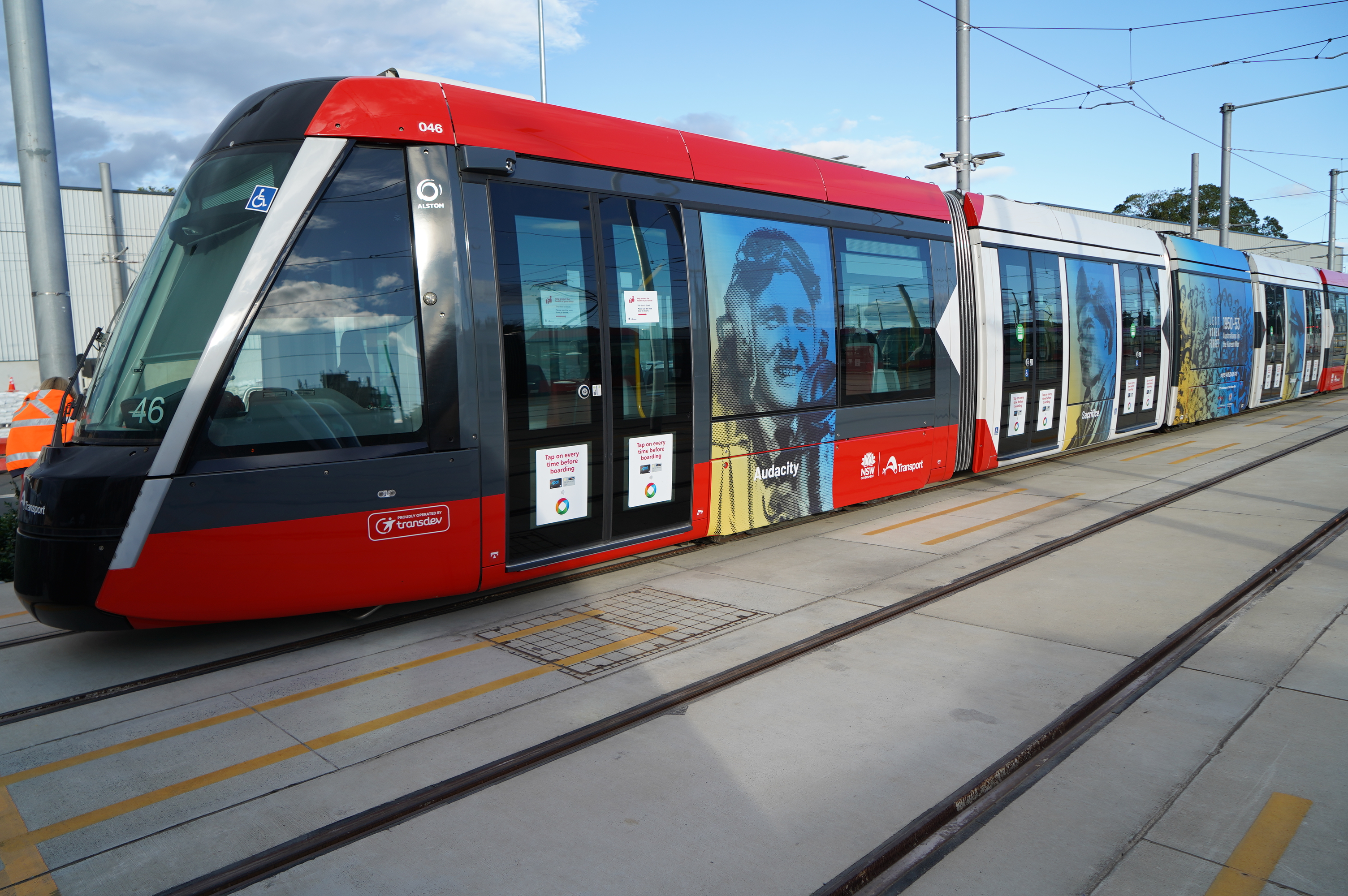 In addition to the Metros, we're also building more light rail to connect communities. The Newcastle Light Rail and Sydney Light Rail have transformed these CBDs. The Parramatta Light Rail Stage 1 is on track for delivery in 2024. We have also committed over $600 million to commence early works and detailed planning to move ahead with Parramatta Light Rail Stage 2, including building the vital bridge connection across the Parramatta River between Wentworth Point to Melrose Park.
Roads that Connect Communities
We will continue to invest record amounts into NSW's Metropolitan and Regional road network to connect communities and improve motorist safety. This is in addition to the recent $1 billion WestInvest investment for Western Sydney road upgrades to enhance liveability, ease congestion and improve flood resilience.
Walkways and Adventure Trails
We will make NSW National Parks even better by upgrading visitor infrastructure. This includes creating 11 new multi-day walks, 61 new and improved picnic areas, 36 campground upgrades and 755 kms of new and upgraded walking track.
Dams and Water Infrastructure
We will continue to mitigate drought risk in local communities, through the $1.1 billion Safe and Secure Water program and other programs in Metropolitan areas.
We will also invest significant funding into dam infrastructure, with funding set aside for Wyangala Dam and raising the wall on the Warragamba Dam, and Dungowan Dam.
Transforming Regional NSW
We will use the funds from the sale of the Snowy Hydro Legacy Fund to invest in new infrastructure right across regional NSW.
We will continue to build large transformative infrastructure projects like the Great Western Highway Upgrade and the John Hunter Health and Innovation Precinct as well as smaller community projects all around the state, like local school upgrades and new police stations and ambulance stations.